At Holt Inn we care for the well-being of our guests
Every day we monitor the development of Covid-19 and evaluate how we can adapt to changing circumstances.
Holt Inn is open all year round and will continue to do so as long as guidelines of global and local health authorities allow us to, but we recognize that conditions may change or already have changed for our guests. Our number one priority is the well-being, health and safety of our guests and staff.
Therefore we want to meet the changing circumstances of our guests during these unprecedented times.
Guests who have a booking with us in the period of March, April and May will have the option of either a full refund or a voucher for the total nights booked with one bonus night added, which can be used in 2020.
For example, if a guest has a booking in this period for two nights and prefers a voucher, our guest can receive a voucher for three nights in a row.
Please note that the voucher is not available to bookings booked through booking sites (such as Booking.com) since those bookings are subject to their terms (Force Majeure).
Please feel free to contact us at holtinn@holtinn.is for more information.
Finally, we wish you all the best and good health.
Our warmest regards,
the staff at Holt Inn
For information on the status of Covid-19 here in Iceland, we refer to https://www.covid.is/english and The Directorate of Health https://www.landlaeknir.is/koronaveira/english/
Nature at it's finest
Isolated luxury
About Us
Country Hotel in Westfjords
Holt Inn is a family run country hotel in Önundarfjörður in Westfjords of Iceland, the hotel is run by husband and wife Helga, Ásvaldur and their son Kristján and daughter in law Hólmfríður or Hófí as she is always called.
"Our family strives to offer personal service and show our guest good hospitality. We emphasize on unique nature, mountains, beaches, wildlife, views and northern lights. With all these factors we hope our guests feel comfortable with some hint of country life in Iceland. We hope you enjoy your stay at our Inn"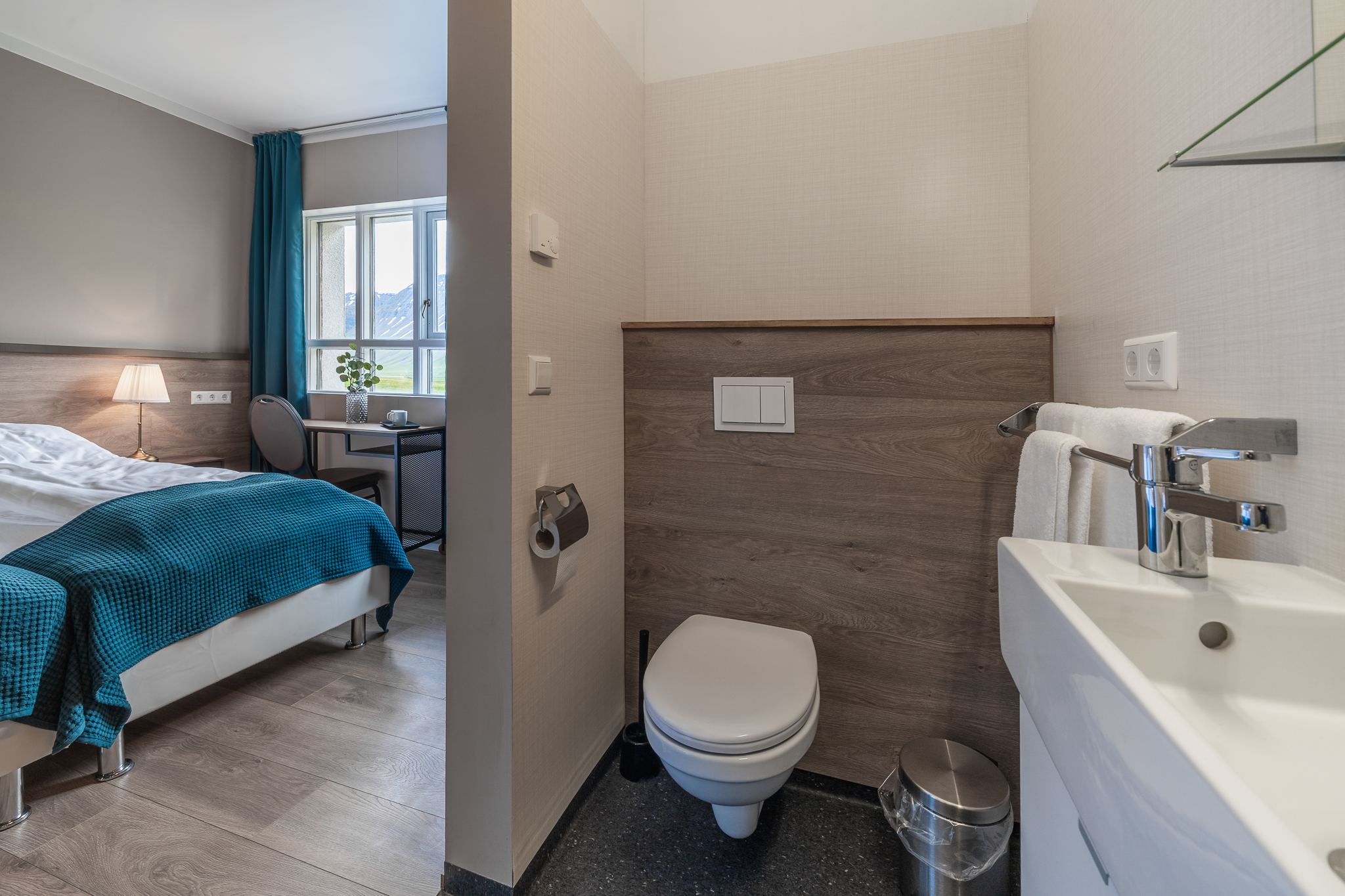 Double room
Deluxe
26.000

 ISK

 20% Summer 2020 discount!

20.800 ISK

1 Night for two persons
Breakfast included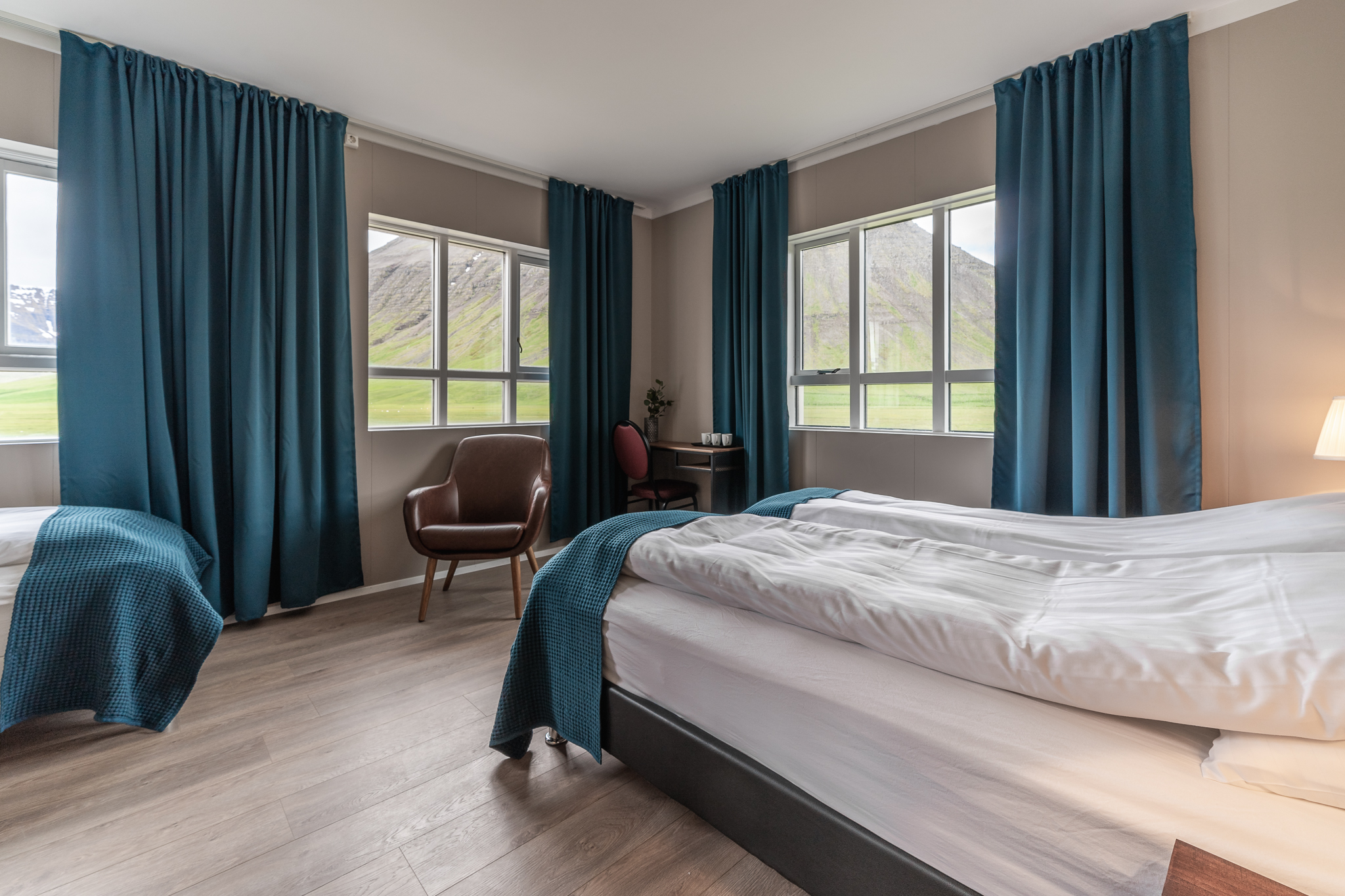 Triple room 
Deluxe
31.000

ISK
20% Summer 2020 discount!
24.800 ISK
1 Night for two or three persons
Breakfast included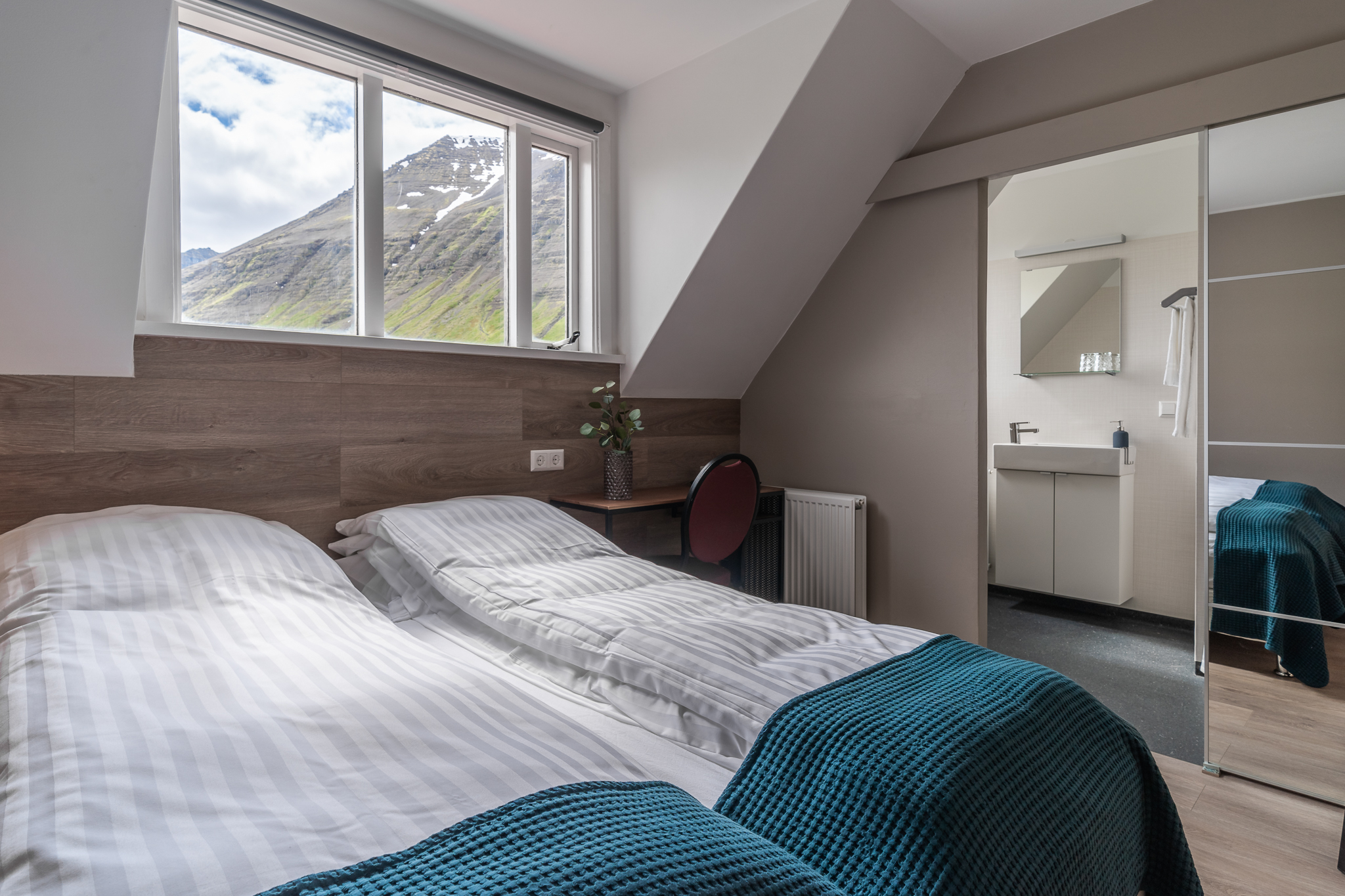 Double room
Standard 
22.000

 ISK

 20% Summer 2020 discount!

17.600 ISK

1 Night for two persons
Breakfast included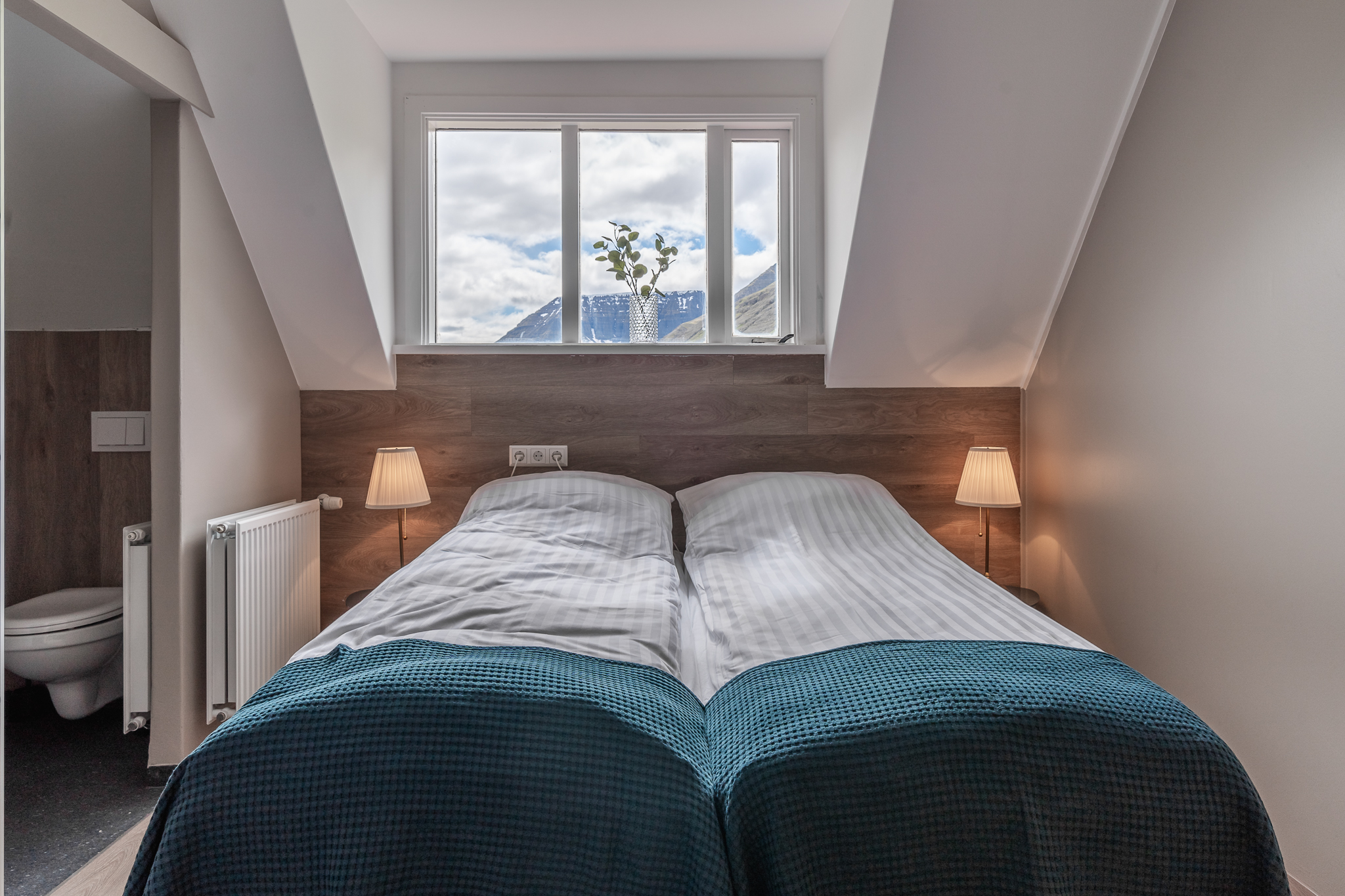 Double room 
Eco
20.000

ISK
20% Summer 2020 discount!
16.000 ISK
1 Night for two persons
Breakfast included
"Lovely conveyed school house. Great hosts who put on a breakfast buffet even though it was just us staying. Comfy room with all the features you need plus a spacious living room open to all. Great quiet spot for stars and Aurora spoting."
"Schönes Hotel, auch für mehrere Nächte geeignet. 😊
Super schönes modernes Zimmer, die Gastgeberin war sehr lieb und hat uns tolle Tipps gegeben, die wir auch gerne umgesetzt haben. 😍 Das Frühstück war umfangreich, es gab für jeden etwas. Der Blick aus dem Zimmer war wirklich schön. Insgesamt war zwar nicht viel los, aber wird würden es jederzeit wieder buchen."
"We like the location and view from our window. It is such a quiet town with a stunning view."
"Sehr nette Vermieter, tolles Fruehstueck. Sieht von aussen fuer deutsche Verhaeltnisse etwas strange im Baustil aus – ist innen aber wirklich alles toll. Inkl gestimmtem Klavier im Fruehstuecksraum. Aber das Beste: die Umgebung! Der Strand, die Berge und Northern Lights Alarm. Wundervoll. Und Isarfjördur durch den Tunnel in 10min. zu erreichen. Einfach toll!"
What you Get
Amenities, Services & Travel Guide
Coffee and tea in every room
Restaurants
There is no restaurant at the hotel but there is a microwave and a boiler in the breakfast area. We do sell minipizzas though which you can order in the morning of your arrival. We also sell soda, beer and wine. Places to eat at in the area are Kaffi Sól (3km), Vagninn (10km, only open June-August), Húsið (18km), Edinborg (18km), Við Pollinn (18km) and Tjöruhúsið (18,4km, open from Easter to the end of September. Better to reserve a table).
Bars & Lounges
We sell soda, beer, wine, handmade chocolate and dried fish. What more can you need? Our lounge area, Ingastofa, is perfect to sit down in and enjoy a drink and relax and /or chat with other guests.
What to do in the area
The area has a lot to offer. In our fjord, Önundarfjord, you can enjoy our beach by Holtsbryggja, choose one of many hiking paths around the Inn, check out the swimming pool in Flateyri and also do some bird whatching.
The beautiful waterfall Dynjandi is only a 1.5 hour drive away.
Outdoor & Adventure
In the winter you can go skiing, both alpine and cross country. Only 20 minutes away we have the best cross country skiing area in Iceland. 
In the autumn you can also join us in our sheep roundup. Send us an email if you are interested! 
Visit WESTFJORDS
We would
Experience quiet but magnificent Westfjords of Iceland